Reed Pirain is a Partner with NextHome PPM Realty in Pittsburgh, PA. Everyone expects ebbs and flows in the market, and recently, in real estate, sellers have had the upper hand. However, with the market shift, inflation, and interest rate hikes, will the end of 2023 turn to a buyer's market? Reed Pirain answers these questions and more in the following article.
Painfully high mortgage costs are decreasing home-buying competition at unprecedented rates, and many economists surveyed by Zillow expect the real estate market to be favorable to buyers by the end of 2023.
On top of that, rent growth will likely outpace inflation over the next year as those who can no longer afford to purchase properties add extra pressure to rental units according to Reed Pirain.
The pandemic caused a record-high home value growth, but it's currently slowing as mortgage rates skyrocket and buyers' affordability changes. Across the United States of America, values are crawling down slightly, decreasing more so in the country's most expensive metros.
Despite the slowed house price growth, the real estate market is nothing like its pre-pandemic self explains Reed Pirain. The latest market report published by Zillow shows listings stay on the market for 11 days shorter than in 2019, and inventory is still less than 42% compared to the same year. But a whopping 56% of those surveyed expect a considerable buyers' market shift by the end of 2023.
Those currently priced out of the market remain in a tricky spot for now, says Reed Pirain, due to rising rents cutting the ability to save for a deposit on a property purchase. Although, the expected in-favor-of-buyers shift is certainly something these hopeful homeowners can look forward to.
Areas Where Home Prices Will Drop Most by the End of Next Year
Zillow's revised 12-month outlook predicts home value growth across the U.S. will slow from its stunningly high 16% to a mere 1.4% by July 2023. However, the company's strategists were quick to mention that this varies drastically by regional market.
As such, Reed Pirain says that various markets around the country are projected to see a house price decline. But according to Zillow's economists, only 259 out of the country's 896 regional real estate markets will experience a decline, with the largest drops being in the following metro areas:
Fairbanks -7%
Lake Charles, Louisiana -6.1%
Minot, North Dakota -6%
Mount Gay, West Virginia -5.1%
Reed Pirain says the nation's home price appreciation is easing up as a response to the gargantuan surge in mortgage rates. The projections garnered from Zillow's panelists indicate that CPI inflation will be outpaced by the rise in residential rent prices for at least the next three years, exceeding house price growth through 2025 and beyond.
Due to the remaining high rents, prospective first-time buyers may still have to suffer affordability hurdles for years to come.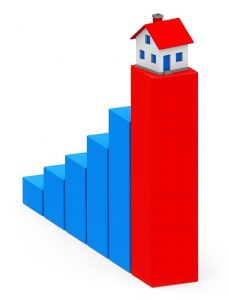 Areas Where Home Prices Will Increase Most by the End of 2023
The vast majority of regional markets are expected to see appreciation in the next 12 months or so. Reed Pirain explains that panelists are projecting that 615 out of the 896 markets will see rising house prices over the next 12 months, with a mere 22 staying consistent.
The markets expected to see the most growth are as follows:
Wooster, Ohio +12.8%
Sanford, North Carolina +9.4%
Aberdeen, Washington +8.9%
Bozeman, Montana +8.7%
Greeneville, Tennessee +8.6%
Interestingly, experts state that many of the regions predicted to have losses are those that have recently experienced the largest increases.
Nationwide Markets at Risk of Home Price Decline Next Year
Reed Pirain says that home prices grew by 18.3% throughout the U.S. from June 2021, which was the 125th consecutive month for increases. Even though growth is still relatively strong, it slowed from the previous month. But this was expected due to the higher mortgage rates and the concerns over a recession.
The Market Risk Indicator published by CoreLogic predicts that Bremerton-Silverdale, Washington, is at a very high risk of home price depreciation over the coming 12 months.
Other locations at very high risk of declines are:
Bellingham, Washington
Boise City, Idaho
Crestview-Fort Walton Beach-Destin, Florida
Olympia-Tumwater, Washington
Expected Housing Supply and Demand
Most economists say that housing demand will keep surging for several reasons. The main one being that millennials have recently aged into their opportune home-purchasing years, so much so that they represent the most accelerated sector of house buyers explains Reed Pirain.
Plus, home buying among younger generations has risen, with around four out of five young people purchasing for the first time.
Combine that with inflation and inadequate supply, and the nation will see rising home prices for the foreseeable future.
Will the End of 2023 Bring a Buyers' Market
With the analysis in mind, will 2023 bring a buyers' market?
All survey respondents said the growth rate may decelerate next year, giving buyers a chance to get in on the action. However, first-timers may still struggle amid affordability concerns.