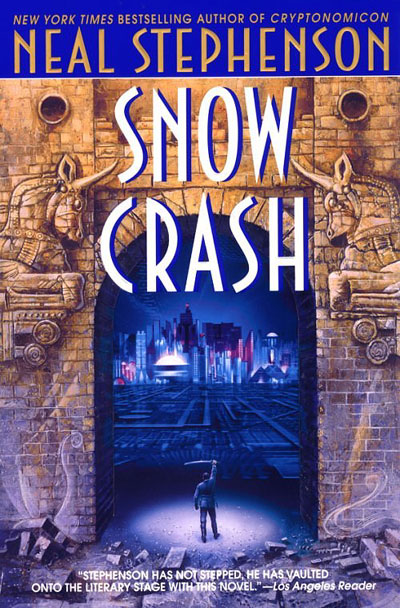 Snow Crash was a science fiction novel written by Neal Stephenson in 1992. There are probably a good amount of visitors here who have read his postmodern/cyberpunk work since many CR readers are always on the edge of technology and innovation. In the book he wrote of the ?metaverse,? a virtual reality world in which people could enter and ?live? when piped in. There were social clubs, bars, streets and stores where people could meet, hang out, and go on dates. It was the next generation of the Internet. I won?t ruin the story for you, but there is a great mix of tech, action, mythology, and swordplay. Sounds intriguing, right?
Fifteen years later, a concept Second Life is coming to international mainstream attention. It is a practical application of what Stephenson had called the metaverse?a client program that allows users to interact with each other via custom avatars. While some see it for its gaming applications, others see it as a practical web navigation device (?walking? into the amazon.com store, ?taking? a CD from Virgin Megastore off the shelf), as well as a progression of Internet personal connectivity.
As companies rush to use the technology, it makes one question, how can technical innovations be monetized and used by existing brands? Recently, a few television networks have created Second Life sites to bring added value to the internet experience. Showtime started a Second Life site for their show ?The L Word.,? and Sundance Channel recently launched their own for premiering films. The indie film and art network likens the experience to going to an art house or coffee shop to check out recent work. On the site for ?The L Word,? visitors can hangout at the same places the characters, can go to a dance club on various theme nights hosted by special DJs, and go to stores with virtual merchandise available for users.
The recent trend towards Second Life, in which there are now over 4 million users, shows an interesting juncture of technology and culture, with companies using it to bring a value edition to their already present properties. Whereas the internet is used to market various products, in this example, television networks use their web sites to promote new shows, post behind-the-scenes footage, leak information, etc., now these networks have tapped into Second Life to intrigue and insight. Even if a visitor isn?t interested in the show itself, they will definitely check it out just to learn more, and thereby increase the potential of exposure to the show and its network. How can you use technology and innovation to do the same for yourself or your business?
http://secondlife.com/whatis
http://www.sundancechannel.com/festival/?page=greenimation
http://www.sho.com/site/lword/second_life.do
[ratings]