Everyone hates paying taxes! Especially when you don't know where in the world those hard earned tax dollars go. Who does it help? Where does it all go? Is it paying someone to do something? Well, The U.S. government has a specific process of where all of those billions of dollars in taxes it collects actually go. The United States of America 2008 Federal Discretionary Budget is 1075 Billion dollars. Now that's a heck of lot of money to be coming from mostly tax dollars. But what I find interesting is the amount of money that goes to the Military (as you can see from the screen shot below).
Of that 1075 billion dollar budget, 717 billion is being set aside for military and national security funding. That is 67% of the total U.S. budget going to support our national defensive. I find this interesting because of all the other issues and note worthy areas that some of this funding could or should be going towards.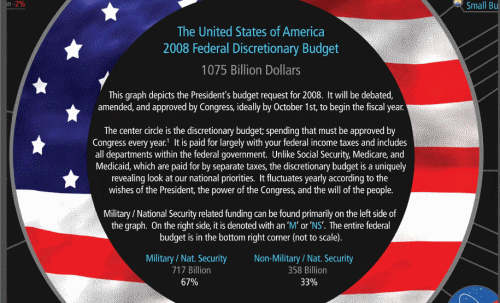 Since this is only a screen shot of the heart of a much bigger and intricate graph, I will link you to the actual graph so that you can zoom in and see the different areas of the budget. The graph is entitled Death and Taxes: a visual guide to where your federal tax dollars go. This graph will show you each branch that the funding will be allocated to. Be sure to zoom in to read the details.
I would be interested to hear where you think your tax dollars should be spent.
Be sure to sign up for our Free Career Newsletter on the top right sidebar for valuable, new information!
A financial advisor can have a successful home business income giving out various information. Even though the internet is the popular spot for free credit card advertisement, most people still fear the credit card application process. Helping people through this can be one area the advisor can touch. The also giving out information on the best credit card available is a good move. Other than that information can be given out on insurance, all types of it, home loan and the cheapest rates available and finally tax accounting. Having a mortgage calculator can be very handy aswell.