If you operate your own business, you have to find a way to accept payments online. Since we often write about entrepreneurs and starting your own business on this site, it makes sense that Axiar Payment Solutions ordered a ReviewMe of their site. Axiar offers three main solutions to anyone who wants to accept online payments:
Payment Gateway. This is Axiar's Payment Service Provider (PSP) that accepts credit or debit card transactions.
Custom Fraud Screening. Axiar boasts about their custom fraud screen and I can see why – they offer a customized solution to every client. I have not come across another PSP solution site that offers a custom solution to each client.
Payment Management System. Axiar provides a control panel for their clients to manage their transactions and create a range of reports.
Their website is simple, consice and easy to navigate. Some of the main positives I saw in testing their site and services are:
They accept all major credit cards.
They accept multiple currencies.
They offer several important free services – declined transactions, technical support, virtual terminal.
They offer custom solutions and will work with their customers.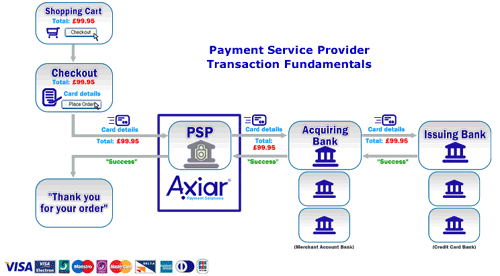 Handling online payments is a very important part of every business and it requires a lot of trust in the company that is handling the transactions. There are a couple of things Axiar can do to help build more trust in their brand since they are competing against several very large firms and banking institutions. A few of the improvements they can make is to have a more professional look and feel to their web site. It is easy to navigate, but it is too blog-like. Anyone with little hmtl knowledge could have created something similar. We also found a spelling error, a grammatical error and tense shifts in the writing on their web site. The fact that they give out their phone number and are easy to reach should alleviate some of the "trust" concerns, but if they perfected the language on their site and gave it a more complex, modern look it would help gain more customers.
Another major positive for Axiar is they list two case studies for you to read. After reading the case studies, I navigated over to the companies they are working with and they are very professional. This helps build credibility in Axiar because we can see they already work with at least two large, professional companies.
Pricing

Axiar Payment Solutions has tiered pricing which can be beneficial to businesses that conduct a large number of transactions each month. They list their prices in pounds but this should not be a problem since they do accept multiple currencies. If you are looking for an online payment solution, you can take a look at Axiar Payment Solutions web site and give them a call for more details.
This is a sponsored post by Axiar Payment Solutions.