As I mentioned a couple of days ago on Introducing Resume Makeovers, we will be selecting a resume to critique on our site. This featured service is intended to show our readers how to write a resume. From the amount of resumes John and I have received in the past month, we thought it would be a great time to post one of the resumes we helped Makeover today. For each resume makeover we do, we will describe the type of resume it is, the field in which the person submitting is in or wants to be in, and walk you through the steps of what we did to makeover the resume.
Our first resume makeover on Career Ramblings comes from Stephen, also known as HMTKSteve or Steve. Steve sent us his resume since he wanted to find new opportunities in the programming field. With technology and the internet bringing the world to your finger tips, this is a great field to be in or want to be in. More and more companies are looking to advertise, grow and expand through a wider net to reach more people. A programmer can have many options in today's world. Steve currently serves as webmaster to many sites, but the one I frequent the most is HMTK dot com.
Steve's resume at first glance needed some formatting help. His name was hidden with other contact information and he was not highlighting his experience as well as he could have. As you will see, there were inconsistencies. But with a little help from Career Ramblings we have sharpened up his resume making it new and improved.
For Steve, a combination of a chronological and a functional resume was used. Since his experience as webmaster was what we wanted to focus on, we used those experiences first and moved his employment experiences under that. Let me show you what I mean.
This is Steve's resume before the Resume Makeover:
Steve's Resume (click to view pdf)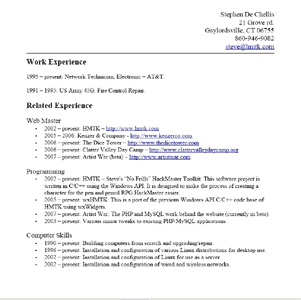 Now that you've seen what he submitted to Career Ramblings, let me show you what we did to it:
Steve's Resume Makeover (click to view pdf)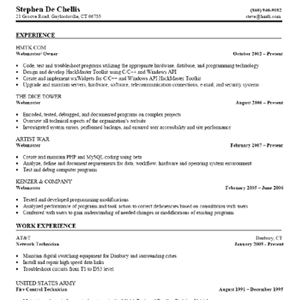 I reformatted his resume so that the focus is on his name, headings and experience. I set the page up so that the use of space would be more efficient with maximizing the margins. As you read the bullets, you will notice the different terminology used. I wanted to include stronger words to emphasize the strength in Steve's abilities and experiences. One thing I was very careful of is matching what he has done to what is on the resume. The last thing you ever want to do is lie on your resume. That will only hurt you in the long run.
Once your resume has the excellent new look that all employers will want, you can post it on Beyond.com for free or have Resume Zapper distribute it to thousands of recruiters for you.
If any of you are looking for an experienced webmaster to hire, I would seriously consider Steve as a potential candidate for the position. Not just because of his resume and allowing us to showcase it here, but because of first hand experience that I have had interacting and viewing his site.
This concludes our first edition of our Resume Makeover series. We currently have 2 resumes on deck to be featured. If you are interested in a resume makeover, or would like to sponsor this series, be sure to contact us.
Sites to remember:
Beyond.com for free resume posting
Resume Zapper for distribution to recruiters